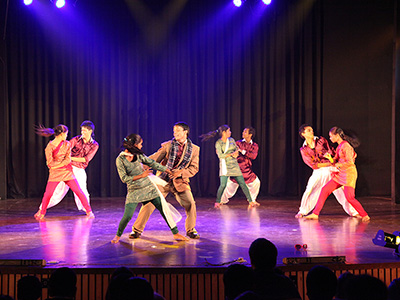 After the first performance in 1989, a child walked up to Mr. Sanjoy Roy and said, "Bhaiya, pehle to main sochta tha ki koi humari baat sunte nahin hain, aur ab maine dekha ki itne bade bade log baith ke auditorium mein humari baat sun rahe hain. Main to kabhi socha bhi nahin ki ye mumkin ho sakta hai." (Brother, I used to think that nobody listens to us, but today I saw so many important people sitting in the auditorium, listening to us. I never thought it was possible!).
Through the experience of performing arts, SBT has successfully instilled this sense of self-confidence and dignity, which is otherwise amiss in the lives of these children. Believing in the latent talent of every child, performing arts are used as the springboard to enable the journey of reflection, expression, and empowerment.
Engaging in the Therapeutic Process
SBT has an extended association with performing arts, which stretches over 25 years. The Trust traces its roots back to Mira Nair's award-winning film 'Salaam Bombay' in 1988. The making of the film exposed the raw vulnerabilities of street children.
Around the time in the mid-1980s, the Theatre Action Group (TAG) began working with street children. What started as a simple act of interacting with street children transformed into a cause-driven process to give the children safer and holistic opportunities.
While TAG members would religiously scout the railway station for street children, build a rapport, provide them with a glass of boiled milk and an egg, and read the newspaper to them, the group realised that they were yet to penetrate beyond the layers of confidence and attitude. They felt somewhere they were unable to reach the 'child' in these children. That is when 'Nukkad' was formed to use remedial drama as a therapy for the children to answer some of the issues that they had. Workshops for the first full-length play "Jivan Ki Gaadi" directed by Mr. Barry John began in the middle of December 1989.
As Mr. Mohit Satyanand exclaims, "What happened thereon was phenomenal!" The stories of pain, abuse, insecurity and broken dreams just flowed at the workshop sessions at Triveni Kala Sangam. The play was a catharsis for the children. Built around their lives, they managed to sensitise the urbane youth about what happens on the streets through the play. The show was hosted at the venue, Sardar Patel School, on 18th January 1990, JNU centre on 10th February 1990, Law Faculty, DU, and IIC on 12th February 1990. What followed has been a long list of theatre productions, activities and camps for children where they have healed their wounds through the finer nuances of performing arts.
As a Process of Empowerment
"Art imitates nature" is a popular perception but sometimes the relationship is more mutual. Mrs. Praveen Nair, Trustee, SBT recalls, "With the film Salaam Bombay, we realised that there are many street children but their spirit of survival is their strength." Thus, over the past 25 years, the approach has always been to rely on the never-say-die spirit of the children. It has never taken the sympathetic or benevolent route to address children's issues. The SBT annual plays have been an important event where the children express themselves, showcase their talents, and are looked forward to by everyone.
It is amazing to realise how effective these endeavours are. "Art has always been a fundamental at Salaam Baalak, whether visual, performance or cinematic," says Mr. Roy. There are numerous stories of children responding to the arts in miraculous ways, including wishing to go back home, abandoning drugs, making friends, getting encouraged to discuss their lives, finding their homes, and most of the times, finding themselves. The 'catharsis' happens here on different levels. Many of the children have gone on to become successful choreographers, photographers, puppeteers, and actors, and their capacity to earn money as well as respect in society as artists is great. Also, the exposure that the children get through art is immense; they travel the world and learn so much about art and life.